Best China Freight Forwarder for Shipping from China to UK
Air, Ocean, Express, and Rail Freight in Competitive Prices and High shipping Efficiency
Shipping From China To UK
If you're looking to ship goods from China to the UK, you have a few different options available to you. You can choose air freight, ocean freight, express courier, or rail freight.
Each option has its own advantages and disadvantages, so it's important to understand what each entails before deciding. This page will look closely at each shipping method and help you decide which is best for your needs.
DFH is the best freight forwarder to arrange shipments from China to UK because we can offer you the best shipping rates and the fastest delivery times. We have a wide range of shipping options available, so you can choose the route that best suits your needs. Plus, our experienced team will help you select the optimal shipping route and handle all the logistics for you. So why wait? Contact us today and let us help you get your products.
One-stop Shipping Solutions from China to UK
Air Freight from China to UK
DFH offers great shipping rates from any airport in China to Europe, especially those located at Shenzhen or Guanghzhou.
Ocean Freight China to UK
DFH is a China Leading ocean freight forwarder who offers very competitive rates for FCL and LCL shipments from China to any sea port in Europe.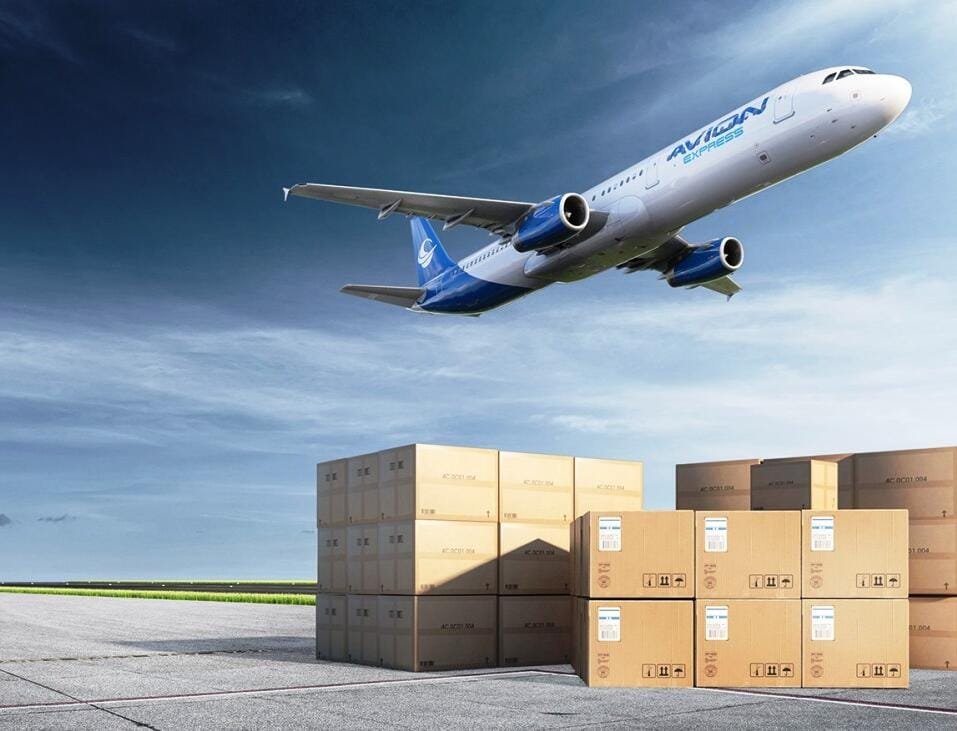 Express Freight from China to UK
FedEx, UPS and DHL are the three most popular shipping methods that offer fast Delivery to Europe countries with 3-5days for a small fee of course.
Shipping from Alibaba to UK
DFH is the best Alibaba freight forwarder from China to UK. we will help you save at least 40% costs for each of your Alibaba shipments. Cooperate with a Reliable Alibaba Freight forwarder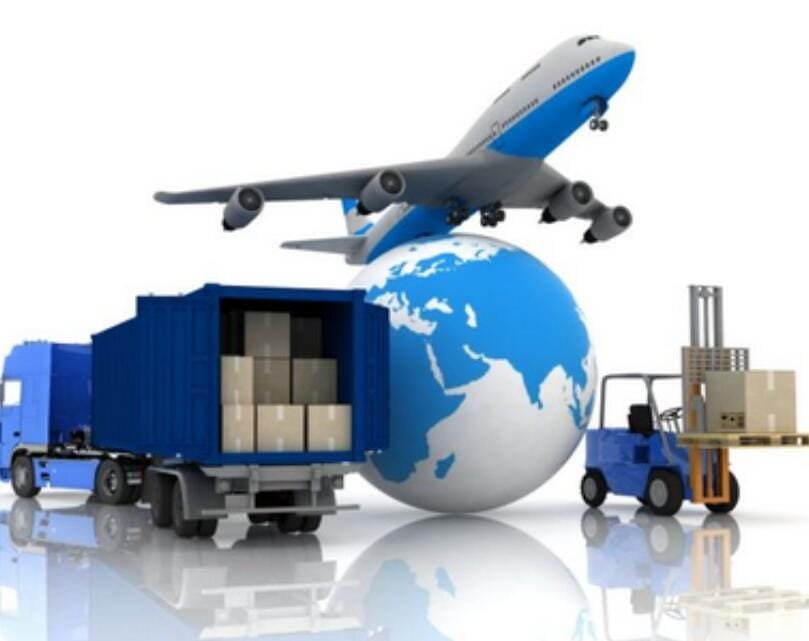 DDU & DDP Delivery
from China to UK
The Chinese self-developed channel, fast deliveries and time saving with competitive price customs clearance Taxfree. DDP delivery goods by sea or air or Rail to combine with Express Freight.
Shipping from China to Austria Amazon FBA
DFH team provide safely and high efficiency Services for Shipping from China to any Amazon warehouse in Europe Countries by Express, Air, Ocean, and Rail Combined routes.
More Services When Shipping from China to UK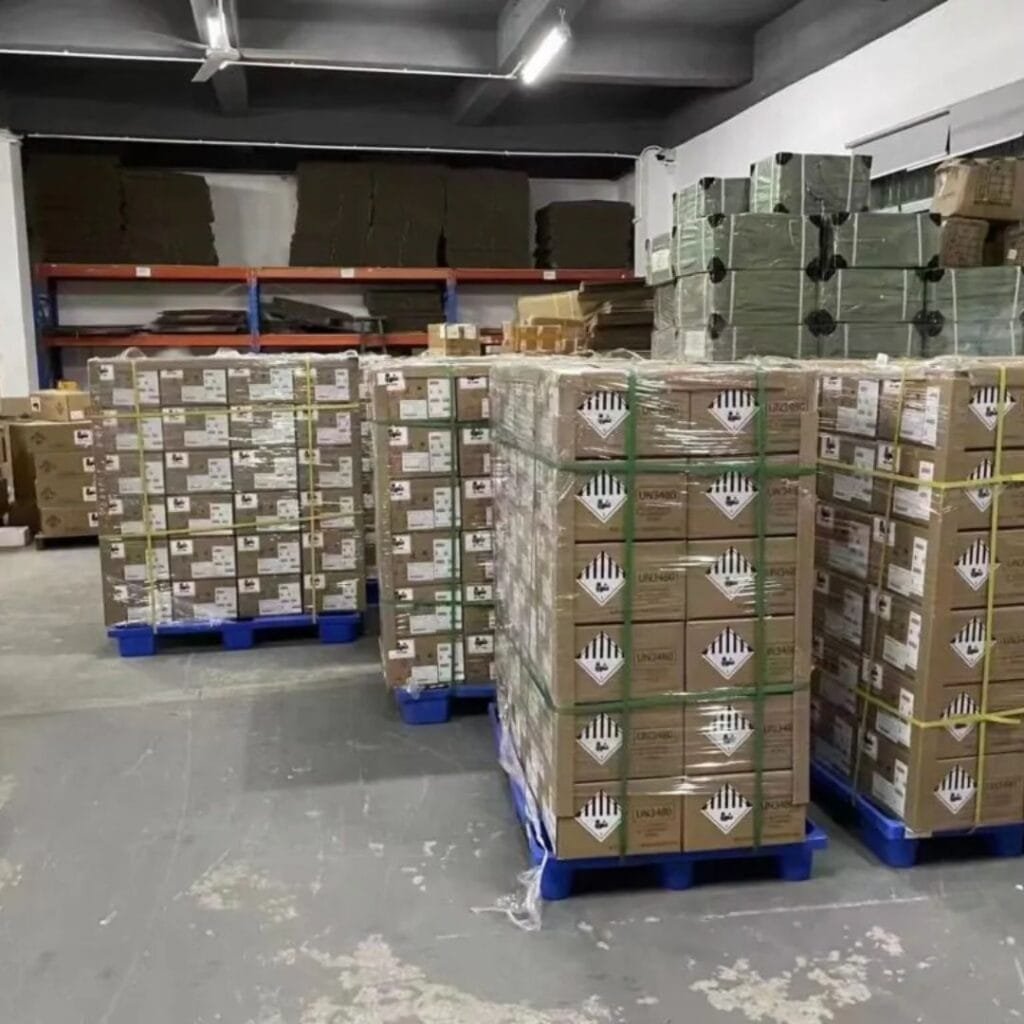 Warehousing and Distribution
We Offer 50days Free of Charge Warehousing for Clients
Pick Up
Pickup at Any address Within China Mainland, Help to Save time and Cost
Packing & Repacking
Provide Free Pakcing and Repacking service,Which help you to make all steps smoothly and easily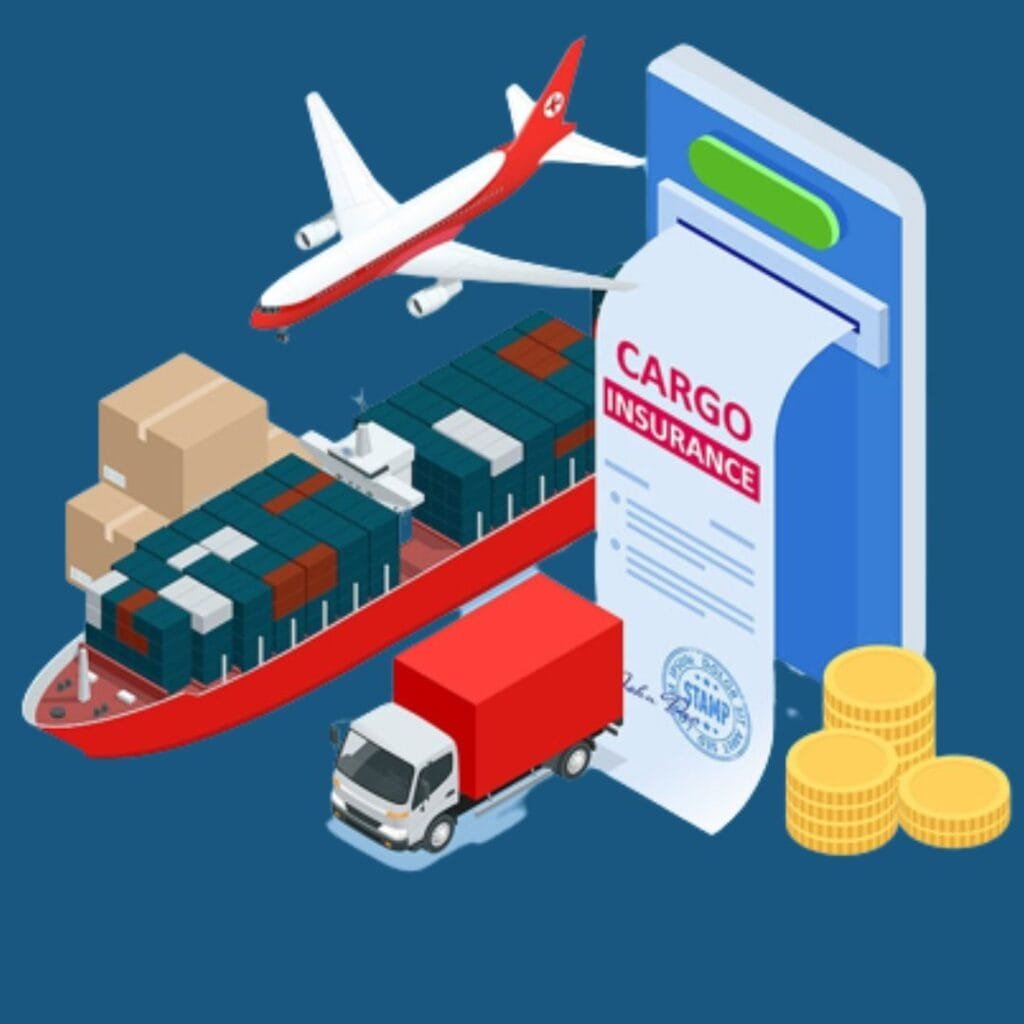 Cargo Insurance
Help To buy Cargo Insurance 30% Lower than you buy yourself.
Import/Export
Custom clearance
We have Stone Custom Clearance team oversea and Within China,To Help your shipments Custom.
Quality Inspection
We can Help to provide Quality Inspect vedios and reports by Profesional quality inspection team
Label products and Outer Cartons
Labeling products or cartons for Shipments to Amazon or Dropshiping products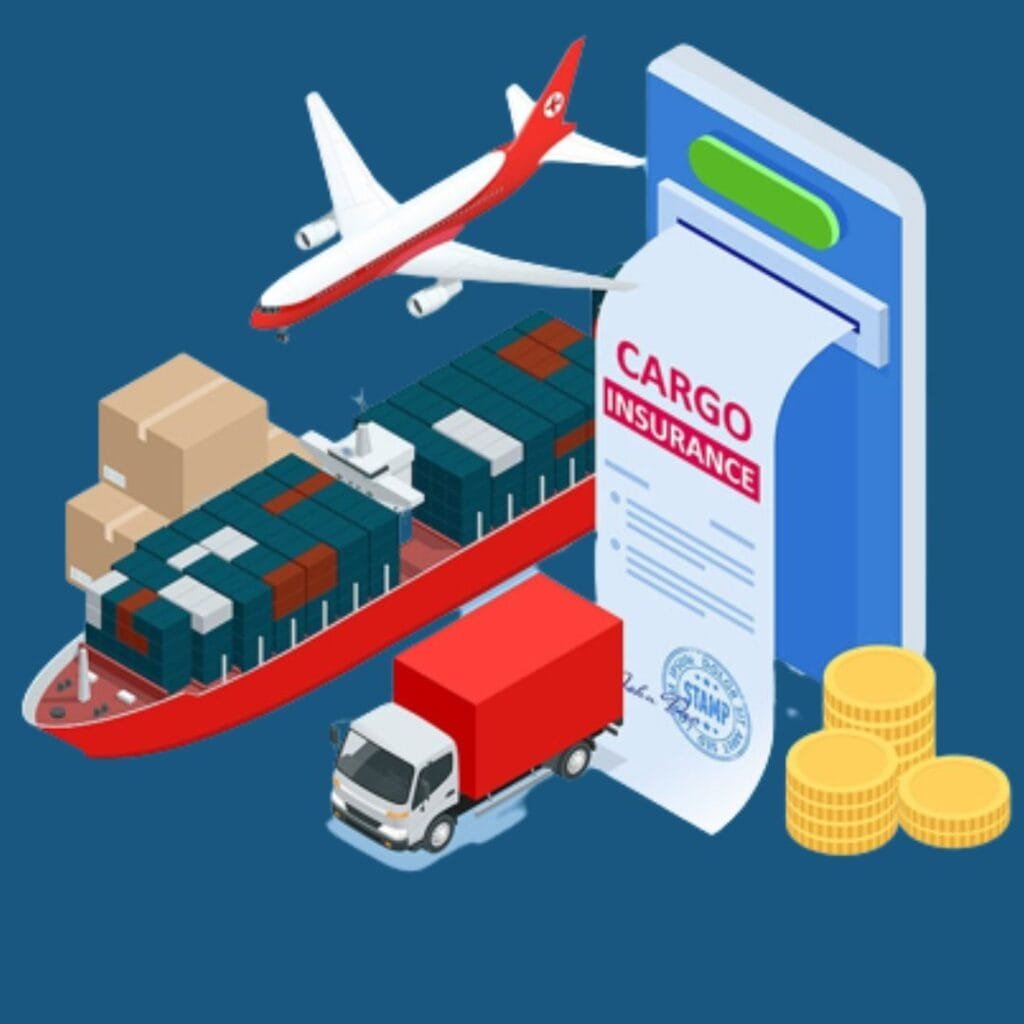 Customized Solutions
No matter your Shipments is small or big, We always can customize shipping solution to meet the rquirement
Why Choose DFH to Help Arrange
shipments from China to UK
Procedures of Shipping from China to UK
Shipping from China to UK: Everything you Need to Know
Are you searching for shipping services from China to UK? What are the factors to consider for the shipping? Whatever business you have, like E-commerce, manufacturing, or warehouse supply chain, there is a shipping method that's perfect for you. In this article, we'll discuss the essential things you need to know before shipping goods from China suppliers to UK.
China is the world's factory. The country has a long history of making quality products for the global market, and this trend continues today. China's economy continues to grow, and more companies are choosing to manufacture their goods in China, and most companies choose to import from China. It offers low-cost labor, good infrastructure, and vast resources for producing all types of items.
Of course, most UK business man import from china to replace from other countries. This increased demand for shipping from China to UK.
Shipping from China to UK
It's not as complicated as some might think. You can choose the most suitable option according to the process you choose. When transporting goods via air freight, it is the costliest transport route, but it can get expensive at the same time. The most common transport option is sea freight, which takes much time and is cheaper. Air transport is costly yet fast, which makes it a perfect choice for last-minute shopping or delivery. if you have a well-cooperated freight forwarder from china. The first step to shipping a product between China and the UK is choosing the shipping mode
What is the cheapest way to ship from China to UK?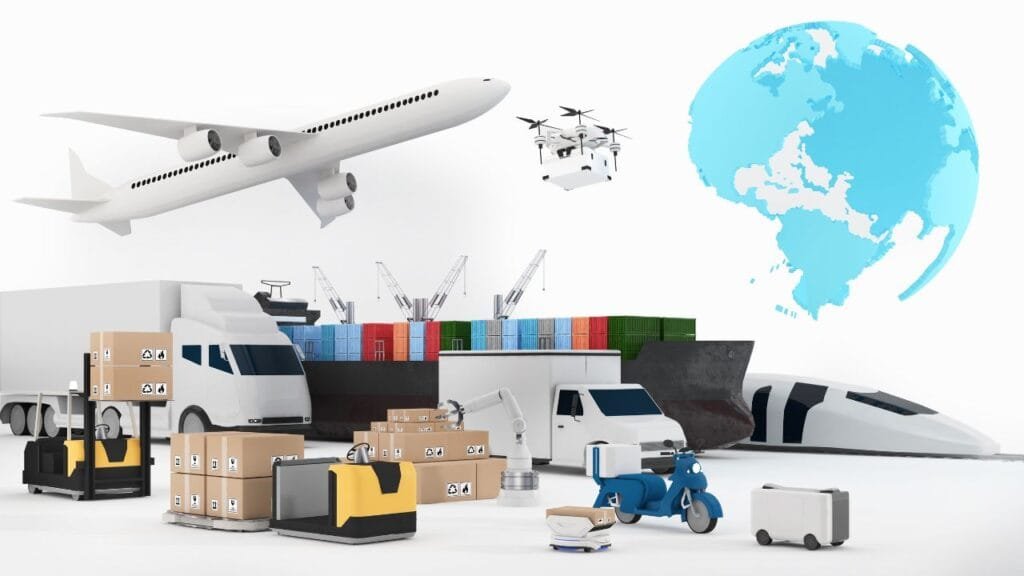 Before we get the cheapest way to ship from china to UK, first we need to know how many shipping routes there have, and then what are the advantages and disadvantages of each shipping method. Now let's check them one by one:
10  Main Shipping Methods from China to the UK
1. Air Freight from China to the United Kingdom
Air freight is a shipping method that delivers from China UK by airplane.
What is the shipping time for air freight from china UK?
For shipment from the China supplier's factory to your local airport within UK, it will take 3-9 days, and each step's time can be broken down as follows:
Pick-up Time: 1-3 days (Because china is a big country, it depends on the distance between your supplier factory to the airport. we usually recommend choosing an airport that is nearest to your supplier)
Air Freight Time: 1-3 days (This means from China Airport to UK airports time) Most of the time, it arrives the same day or the second day.While if need to transit, then there will need around three days)
Delivery Time: 2-3 days (This is the time from UK local airports to your door at any address of UK. this time, including the customs clearance time)
2. Sea Freight from China to the UK
Ocean freight is a transportation method by Sea. it is a shipping method that ships your cargo between seaports, a China seaport to another in the United Kingdom.  
There are two kinds of ocean freight methods that you can choose. that is, FCL and LCL.
What is FCL shipping (Full Container Load)
FCL is a shipping type that fills an entire container with your good, either in 20 feet or 40 feet container. You opt to fill one or more containers to deliver your items. It is an Ocean shipping from china to the UK.
An LCL (Less Than Container Load) is an ocean freight that loads your goods less of a container. For example, if your products are not enough for a full container, they can ship together with other people together to share a container load.
What is the transit time for Ocean freight from China to UK?
Usually, the transit time of sea freight from china to the UK depends on the export seaport within China and the destination seaport in the UK. The faster ocean shipping can take 18-25 days to transport the goods to your chosen UK seaport. In a conservative estimate, the shipping takes 25-45 days based on the kind of ocean freight you prefer.
3. Rail Freight Shipping from China to UK
Rail freight shipping is the process of transporting goods by rail. rail freight shipping from china to uk can be a convenient and efficient way to move goods between the two countries.
The process generally involves loading the goods onto rail cars, which are then transported to the UK via rail.
There are several benefits to using rail freight shipping, including the ability to transport large quantities of goods at once and the relatively quick transit time. In addition, rail freight shipping can help to reduce congestion on roads, and it is often more environmentally friendly than other methods of shipping.
What is the shipping time for rail freight from china to the UK?
The rail freight delivery period is typically 20 to 25 days after the train leaves the China Station. It takes 2-7days from picking up the goods at your supplier factory to finish the container load; after goods arrive at the destination in a train station in the UK, handling the customs clean to delivery to your door, takes around 3-5days.
4. Express Shipping from China to UK
What is express shipping?
Express shipping is a shipping method that transport your good from the China warehouse to UK addresses such as a home, office, Amazon warehouse, and FBA by Express Courier companies.
If you have urgent shipments that need to arrange from china to the UK, express shipping is a good option. Express Shipping can give you a faster, more efficient, and more reliable logistic shipping alternative.
So far, from china to UK, express methods that can meet your shipping needs are DHL express, UPS express, and FedEx express.
Express shipping from china to the UK is a door-to-door shipping service; if choose express, you don't have to go to the airport or seaport to pick up your cargo. This shipping process is from your china supplier address to your door in the UK.
The express forwarding partners get costs depending on the gross or volume and dimensional weights, whichever is higher. The computed price is the chargeable weight for your goods.
What is the shipping time for DHL from China to the UK?
DHL Express delivers your items from your China manufacturer to the UK destination address within 3-7 days.
How long does it take for UPS and FEDEX from china to the UK?
UPS Express and FEDEX Express from china to UK both with Economica way and priority method.
For economic methods, deliver cargo within 5-7 days
Priority methods of UPS and FEDEX from china to UK need only 3-4days.
5. Air Freight combined with Express Freight from china to UK
Air freight combined with Express Freight from china to the UK is a door-to-door shipping method that delivers your items from China to the UK airports by Air Freight. After goods finished the customs clearance and paid the import taxes. the goods will be delivered to the door addressed within UK UPS or FEDEX express freight.
Advantages of air freight and express freight combined shipping method from China to the UK:
One of the fastest and on-time shipping time
No need for you to do both country customs clearances.
No need for you to pay the import taxes. we help you to handle it.
Easier shipment processing and tracking
Can ship large quantities at the same time.
One of the most expensive shipping services
Only accepted for commonly packed carton packages
6. Air Freight Combined with Truck Freight from china to the UK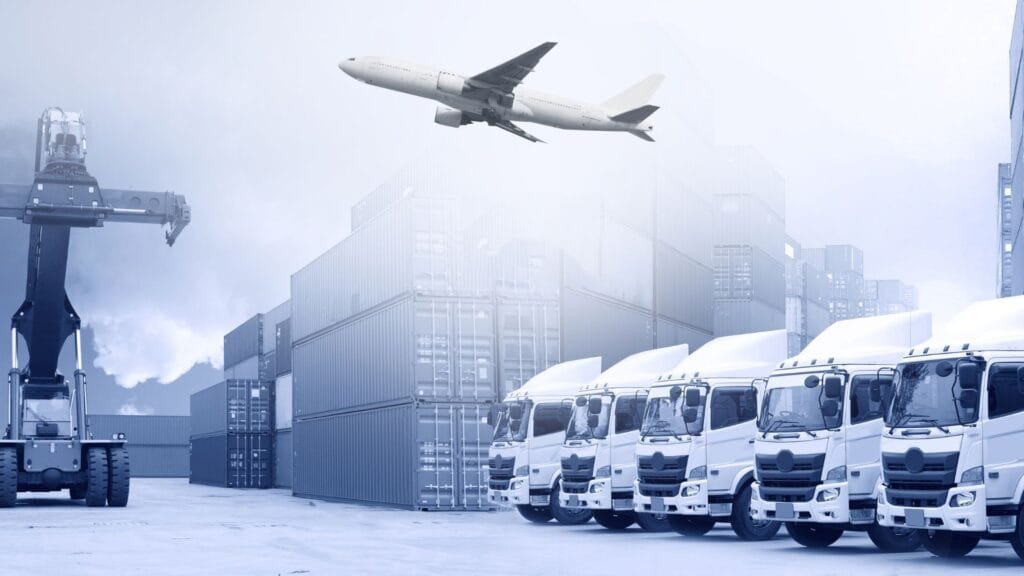 This is Another door-to-door logistic type that ships from China to UK airports first by air freight. After goods arrive at the UK airports and finish the customs clearance, The cargo will be delivered to a door address in the UK by truck. A truck delivers oversized cartons such as wooden cartons, flight cases, and pallets.
transit time faster than ocean freight.
Shipper costs are lower than Air freight combines with the express method
Accept oversized carton shipments.
Without Weight and volume limitations for each carton
Affected by weather conditions.
The shipping cost is higher than the ocean freight.
7. Rail Freight combined with Express Freight from china to the UK
This is a door-to-door delivery shipping method that shipping goods from China to the UK by Rail freight first. After goods are finished customs clearance and paid the import duty, Goods will be delivered to your door at the final destination in UK by express freight such as UPS shipping or FEDEX shipping.
More affordable than air freight
Faster than ocean fright
Freight trains can carry commonly packed cargo
Environmentally shipping method
transit times longer than air freight shipping.
Pricey than ocean shipping.
8. Rail Freight combined with Truck Freight from china to the uk
This is a door-to-door delivery method that uses rail freight to ships goods from China to the UK train station first by Rail shipping. After goods are finished customs clearance in UK will be delivered to the final destination within the UK by truck.
Can handle a secured pallet delivery service
Faster than ocean freight
Cheaper than air freight cost and express freight
Accept full container load shipments with a hue quantity of goods
Accept less than container load shipments.
door-to-door shipping method.
No need for you to do the customs clearance.
transit times longer than express freight.
Slower shipping than air freight
shipping prices higher than Ocean freight
9. Ocean Shipping combined with Express Freight
This door-to-door shipping mode combines sea freight LCL with express shipping.
From China to uk sea freight first, and after goods finished customs clean and paid taxies, be delivered to the final destination in UK by UPS and FEDEX.
Advantages of sea freight combined with an express from china to the UK:
Can transport cargo shipments such as pallets.
Shipping costs are lower than air freight and rail freight
door-to-door shipping method from china to the uk.
No need for you to do customs clearance.
No need for you to pay taxes.
Environmentally shipping method.
Don't acceptable full container load shipments.
transit time longer than air shipping and express shipping.
Goods can be affected by weather during transport\
10. Ocean Freight and Truck Freight Combination
This LCL SHIPPING door-to-door method transports items from China to the United Kingdom by sea freight first and delivers from the seaport of the UK to your door by truck freight.
Advantages of sea freight and truck combination shipping method:
Perfect for heavy cargo and numerous volumes of containers
Ideal for items that don't have to be delivered right away
transportation costs lowest method from china to uk.
Accept less container shipping.
Many shipping lines to choose from.
Accept full container shipping.
longer transit time than air freight with trucking service
Influenced by Weather.
International Export/Import Airports and Seaports in China And UK
Main container ports in the UK
The busiest container port in the United Kingdom in terms of quantity are handled as follows:
Port of Felixstowe: 

Situated in Suffolk, the Port of Felixstowe is Britain's biggest and busiest container port and one of the largest in Europe. 

Port of Immingham: This port plays a crucial role in facilitating the supply chain in the UK that guarantees the country sustainable electricity generation.
Port of Tilbury: Located on the banks of the River Thames in Essex, we often utilize the port of Tilbury to import goods from China, the USA, Australia, and the Middle East.

Port of Grangemouth: 

This port is Scotland's most prominent and busiest container port, Located between Glasgow and Edinburgh – in the heart of Scotland's industrial sector.

Port of Liverpool: This port is the most centrally placed port in all of the United Kingdom.
London Gateway Port: London Gateway is the newest port. it is in London on the River Thames.
Port of Southampton: The Port of Southampton is a popular passenger port that also handles an impressive amount of cargo. Located on the south coast, it's very centrally located within this region with direct links to both rail and road systems.
Main Export Ocean Container ports in China
As a world's factory of goods, China's seaports are essential for traveling their manufactured products to different parts of the globe.
Ship goods from China to uk sea freight from the following seaports in China, whether it is less than container load or Full container load freight shipments, you can get a more reasonable price than others. They are:
Shenzhen
Shanghai
Guangzhou
Ningbo
Qingdao
Dalian
Hong Kong
Tianjin
Xiamen
Fuzhou
Airports are one of the vital infrastructures for logistics and business in the United Kingdom.
In London, the central city airports are
Gatwick Airport
Heathrow Airport
Stansted Airport
For the rest of the United Kingdom, the key airports are
Belfast International Airport
Birmingham Airport
Doncaster Sheffield Airport
East Midlands International Airport
Edinburgh Airport
Main Export Airports in China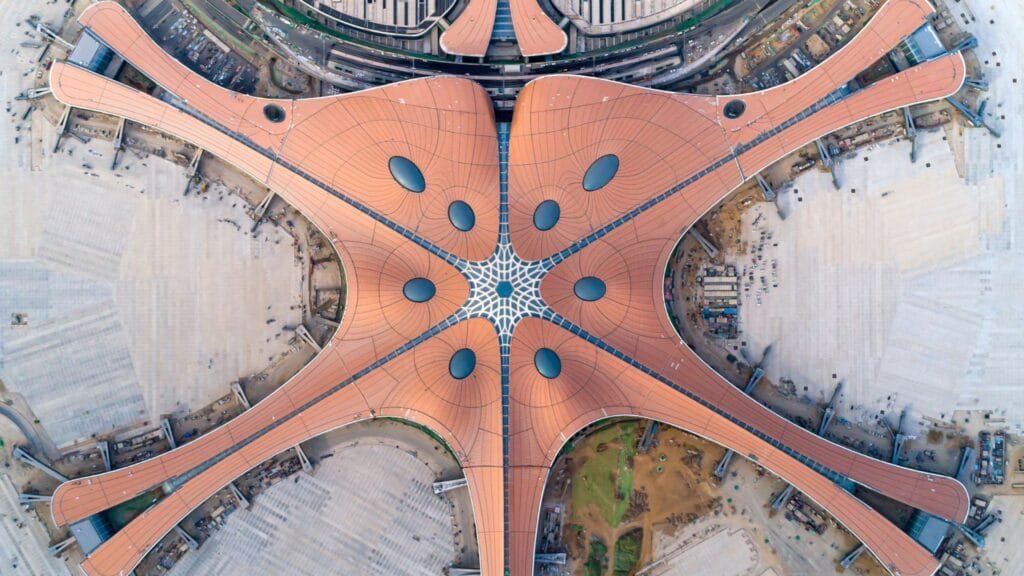 As one of the largest economies in the world, China has numerous airports that make exporting goods to the UK and the rest of Europe easier and more accessible. These airports that ship from China to the UK are:
Beijing Capital International Airport
Shanghai Pudong International Airport
Shenzhen Baoan International Airport
Guangzhou Baiyun International Airport
Hangzhou Xiaoshan International Airport
Xiamen Gaoqi International Airport
Documents needed when shipping from China to uk:
Shipping documents for shipments that are Shipping from china to UK are essential; they decide if goods can arrive on time or not, can go out from china to UK successfully or not, and whether can reach the right destination or not. So the needed shipping documents that you need to prepare before each time shipping from china:
Commercial invoice. ( China Supplier will make it for you)
Packing list. ( China supplier can provide)
Proforma Invoice (You have it before paying to your supplier)
Certificate of products. (Ask china supplier to provide)
Customs Clean Documents. ( China supplier can prepare)
Bill of Loading( Your freight forwarder will send it to you after arranging shipping out)
What goods are allowed to ship from China to the United Kingdom?
At International trade, The goods are generally allowed to ship from China to UK destinations but are not limited to:
· Machinery and equipment
· Rioters 
· Foodstuffs 
· Textiles 
· Light apparel 
· Apparel 
· Medical equipment 
· Telecommunication gear 
· Capped jewelry
· Musical instruments 
· computers 
· Television sets 
· Personalized gifts 
· Carpets 
· Paper 
· Toys 
· Perfumes 
· Jewelleries
· Furniture 
· Appliances 
· Kitchen 
· Dining 
· Living 
· Entertainment 
· Sporting 
· Wounded 
· Respiratory 
· Diagnostic 
· Hospital 
· Chemical 
· Aluminum   
· Plastic 
· Rubber 
· Platinum 
· Semi-precious stones 
· Precious metals 
· Tin 
· Zinc 
· Others not mentioned are welcome to check the catalog at Alibaba.
What goods are prohibited ship from China to the United Kingdom?
Many goods are allowed to export from China and delivered to the UK. These except for prohibited items not limited to:
· Aerosol Sprays 
· Cans 
· Weapons 
· Firearms 
· Ammunition 
· Explosive Devices 
· Gear Boxes 
· Generators 
· Engines 
· Life Jackets 
· Fire Extinguishers 
· Ivory 
· Items made from Ivory 
· Bronzes 
· Marbles 
· Statuary 
· Antique 
· Valuable rugs 
· Works of Art 
· Others not mentioned
What is the best shipping method from China to UK ?
There are a variety of shipping methods available when sending goods from China to the UK, and the best option for your business will depend on several factors.
Air freight is generally the fastest option, but it is also the most expensive. Sea freight is much slower but can be a more cost-effective option, depending on the size and weight of your shipment.
If you need to ship items urgently, you may want to consider using express shipping services. These are typically more expensive than standard shipping options, but they can get your goods to their destination in just a few days. Ultimately, the best shipping method for your business will depend on your specific needs and budget.
Tips on How to Save Money for Shipping from China to the UK
To save more from costly shipping charges with increasing prices of oil, getting the services of logistic companies that suit your requirements is important. These are the tips on how to save money in shipping from China to the UK:
1.

Book ahead.

Have your shipping schedule book in advance to save some money.

2.

Ask for a quote and negotiate with your freight forwarder

. Talk to your freight forwarders, If you can still bargain the charges to save some, the better.

3.

Ship off-peak season.

The Winter season is the busiest for shipping, while the summer season is less hectic. Schedule your shipment during the summer off-peak season.

Need to mention is that the holiday season price spikes. So avoid shipping during this time. Such as before the China New Year holidays and before the Christmas holidays.

4.

Use shippers-provided packaging.

This will save you a lot with free packaging supplies.

5.

Check what's in your quote.

What services are included in your quote? Is your quote door to door or port to port? Understand what's your paying to avoid getting hit with surprise fees.

6.

Know the association discounts.

Check on shipping discounts given to a business or company. Get more information on the payment method available for this kind of discount.

7

. Verify shipping capacity.

Confirm if your freight forwarders can handle shipping from China to the UK. Know the nearest seaports and airports from your China factory or Chinese suppliers that the forwarding partner covers.

8

. Cooperate with an experienced freight forwarder from China

. but not from other countries.

9.

Hire a reliable freight forwarder from China

near your suppliers but not ask your suppliers to arrange the shipments from china to the UK for you.
Why Choose DFH as your Freight Forwarder?
DFH has been one of the most reliable China freight forwarding companies since 2009.  For more than a decade, DFH Global Logistic has continued to provide top-notch shipping solutions to its customers. Whether you ship your good from China to the UK or any parts of the globe, we've got you covered.
We know you are looking for a better Chinese freight forwarder that can meet the demand for your business, Not Only the air freight shipping from China to the UK. So Hiring the best freight forwarder like DFH to be your freight forwarder partner from China will give you much profit equal to gaining a good client. The benefits of choosing DFH Logistics are:
Expert in Freight Forwarding
A trusted shipping solution by 4000+ companies and counting, DFH has a long-standing history of expertise in freights and logistics services for more than 13 years. we have a broad range of freight and shipping services according to your forwarding needs.
Customers are DFH's utmost priority
Our 24/7 online support helps you check your cargo shipments anytime.  A competent staff closely monitors your shipping with time and cost for customers' peace of mind.
Lower Rates Than Competitors
DFH is an international freight forwarder company that can handle shipping from all sizes, small and medium companies from China to all over the world. We provide many kinds of shipping modes for your choice. More affordable shipping rates compared to another leading freight forwarding. That means getting the shipping method you need that matches your budget.
 For all the advantages why choosing DFH, please check there. We have listed all the things we can do for you. Our DFH will be the best freight forwarding partner that is suitable for all your requirements.
Send us your inquiries or request a quote here to get quick estimates. Our professional customer support staff will attend to your needs promptly.
Other Related Shipping Solutions
Our related services to make your shipping transactions stress-free and hassle-free are:
Free warehousing
Customs clean documentation
Cargo Insurance
Free relabel and repackaging
Dropshipping
freight consolidation
customs handling.
Pay customs duty
Other services talk with us directly.
With many years of experience, we guarantee a reliable team that can assist you whenever issues or problems arise with shipping your goods from China to the United Kingdom. Don't have to worry a lot.
FAQs About Shipping from China to the UK
1. How can I ship from China to the United Kingdom?
There are 10 ways to ship your parcel from China to the UK as previously discussed. You can choose what you prefer for your business.
2. How do I ship from China to the UK?
Just send us your message, and we'll immediately respond to your questions or queries within 24 hours. Contact us to know more about our logistic and freight solutions.
3. How long does it take to ship from China to the UK?
Shipping times from China to the UK can vary depending on the type of shipping method used. Air shipping is the quickest option, with packages typically arriving within 3-5 days. However, it is also the most expensive option. Sea shipping is slower, with packages taking 2-8 weeks to arrive. However, it is much cheaper than air shipping. For most people, the best option is to use a combination of air and sea shipping, with air shipping for time-sensitive items and sea shipping for items that can wait a bit longer. No matter what shipping method you choose, we can sure that your package will arrive safely and on time.
5. Can you arrange Alibaba shipments from China to the UK?
Yes, we can.  We assist you in arranging shipment from China to uk in various ways like door-to-door, express freight, air freight, ocean freight, and truck shipping.no matter what you buy from what kind of company within China. If only they are from China's mainland factory. Alibaba or any other platform. we can get a good shipping solution for your choice
6. How to track my shipments from China to the United Kingdom?
After sending out your cargo, you'll be provided with a tracking number to monitor the shipping status online. We can also email the shipping progress report if you don't have time to track your shipment.
7. Is there a delay in shipment from China to the UK?
Delay cannot be avoided in unusual conditions, which are rare. We closely monitor your shipping to ensure the products are delivered on time.
8. What custom duties and taxes will I pay when shipping from China to the UK?
Customs duties and taxes through a door to door shipping, express freight, or ocean freights are generally included in the charges.  DDP is door-to-door shipping with taxes and duties. If you prefer to pay your shipping duty and taxes on your own, choose DDU or door to door without duty and taxes. Provide your goods name and the HS CODE, then we can check for you the customs duties and taxes.
9. Is insurance can be included in the shipping cost?
Yes, we can help you get insurance for your high-value commercial goods. We can assist you to buy lower-cost insurance than buy it somewhere on your own. normally the insurance cost is 4/10000 of the commercial invoice value.
The process of shipping goods from China to the UK can be a complex one, with many different steps and potential pitfalls along the way.
Your chosen supplier should be able to help with this by organizing sea freight or air freight shipping companies who will handle everything from packing and loading your goods onto the transport vessel/aircraft all the way through until delivery at your address in the UK.
It's essential that you keep track of your shipment every step of the way so that you know when it is due to arrive in the UK. The best way to do this is by using a tracking system provided by either your supplier or the forwarding agent.
Finally, once your goods have arrived in the UK, it's up to you to arrange delivery from the port/airport terminal to the final destination (usually home or office). This last stage can often be arranged through local courier services if you don't want to wait long for your items!
But with DFH Global Logistics, Arrange shipments from China to the UK. The only thing you need to do is tell us the Shipping requirements and provide the china supplier information. Then we will cooperate with them to arrange all shipping things for you.
Worry no more! Drop your email at info@deefreight.com or Free Quote. Contact us!
Get Shipping Solutions Now