When importers and exporters send and receive large quantities of goods by sea, they might utilize a shipping method referred to as Full Container Load (FCL shipment).
FCL shipment is one of ocean freight's most widely utilized shipping terms with Less Container Load (LCL shipment). This guide will tackle the ins and outs of full container load shipping.
What Does FCL Mean?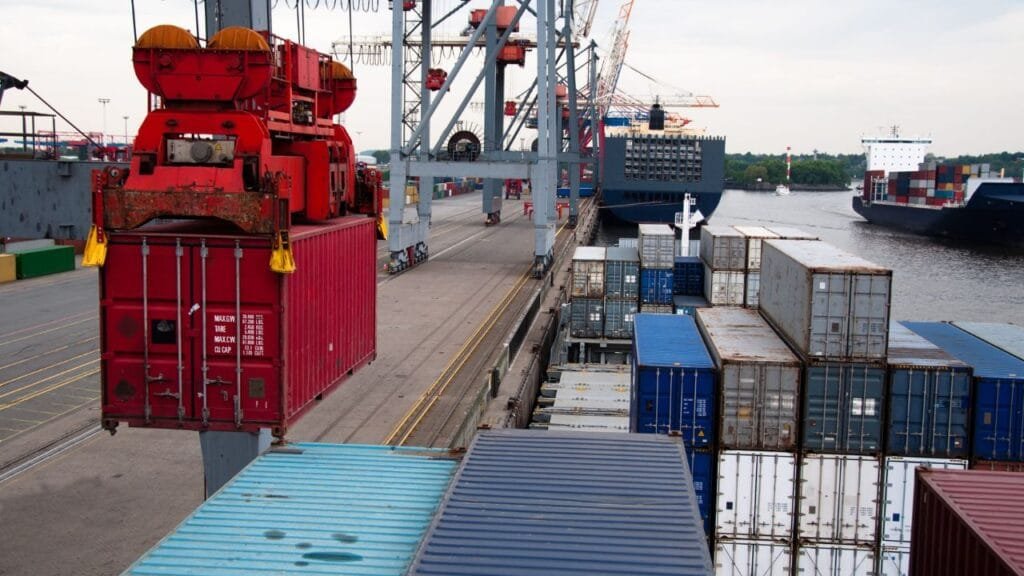 FCL shipping involves shipping containers using a full container literally. The container space is exclusively utilized for a full single container shipment. On top of that, that means you won't share the container with any other cargo. That means you can take advantage of its full capacity.
Nonetheless, that also indicates you bear the freight costs of the entire shipment.
FCL Container Size and Dimensions
The International Organization for Standardization sets the ideals for every FCL container and their dimension. You will find different types of standard containers: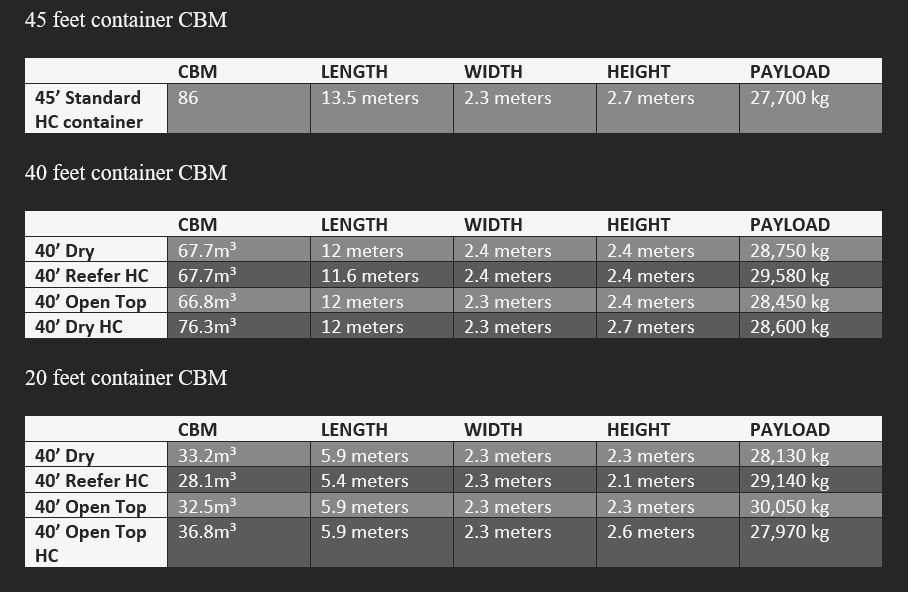 What is an FCL Shipment?
FCL shipment is more to the point that less than container load (LCL shipments). That's because they don't need freight forwarders or other shippers to consolidate the large shipment before loading it into the entire container.
That also indicates that deconsolidation will occur at either the destination or major arrival ports when it arrives.
Benefits of FCL
In the right scenarios, FCL shipping offers a lot of benefits. We outline some of the advantages you need to know.
· More efficient
Using FCL shipping through buyer's consolidation is an efficient way of shipping multiple smaller LCL shipments from the same location. Instead of shipping multiple shipments, it can be more practical to consolidate the cargo into one large FCL container space instead of shipping multiple shipments. How cool is that?
Using FCL, you can save many costs, as you don't need to pay multiple export handling fees, delivery, and collection fees. Also, you can benefit from container tracking only one shipment.
· Less risk of damage
Since you'll have one shipping container full of your goods with a full container load, you can guarantee that your product's integrity is sustained because they won't be combined with other shippers and other importers.
Also, FCL needs less handling as the goods aren't consolidated. Your entire container will be sealed at the supplier's warehouse and not opened again until you receive the containers at the final destination.
· Competitive prices
Shipping large volumes of product in FCL shipments are generally cheaper than LCL. That's because the latter levies shipping cost on a cubic meter basis while FCL rates are flat rates charged per container.
While LCL works for small volumes, you would benefit from the cost efficiency in an FCL cargo over this amount.
FCL Shipment Procedure
1. Book your shipment
Your freight forwarder will perform this on your behalf, even though you must provide all the documentation to them to ensure your FCL shipments are easily managed.
After you provide all the details, these shipping companies will book your FCL shipments. We suggest securing a container yard as early as possible before the shipping peak season (from August to October). Doing so will help you prevent delays and save on additional fees to your supply chain.
2. Prepare the FCL cargo for shipping
We suggest starting early and seeking advice on whether your sea freight shipment needs special packaging. As your goods will go into one container, it is essential to consider the type of container which suits your goods.
3. Drayage
Once the dangerous goods are packed into the container and good to go, the FCL cargo will be "dragged" out near the port where the shipment will be exported.
In case you don't know, drayage is the term that refers to a specialist service that carries cargo over short distances (for example, to the port of export).
4. Transit
After the FCL container is drayage to the export CFS and finished customs clean, It will then transit to its destination on a suitable vessel. The cargo can either be shipped through a transshipment port or on a direct route. The former means your cargo will stop at one or multiple ports before the route's final leg. The latter means your container arrives at its destination in one journey without making stops.
5. Pickup and delivery
Once the container arrives at the port and is offloaded from the vessel, it will be delivered right to the final destination point. On arrival, one consignee or the customs broker who will receive the goods will sign an acknowledgment form indicating they have received them.
How Long Does FCL Shipping Take?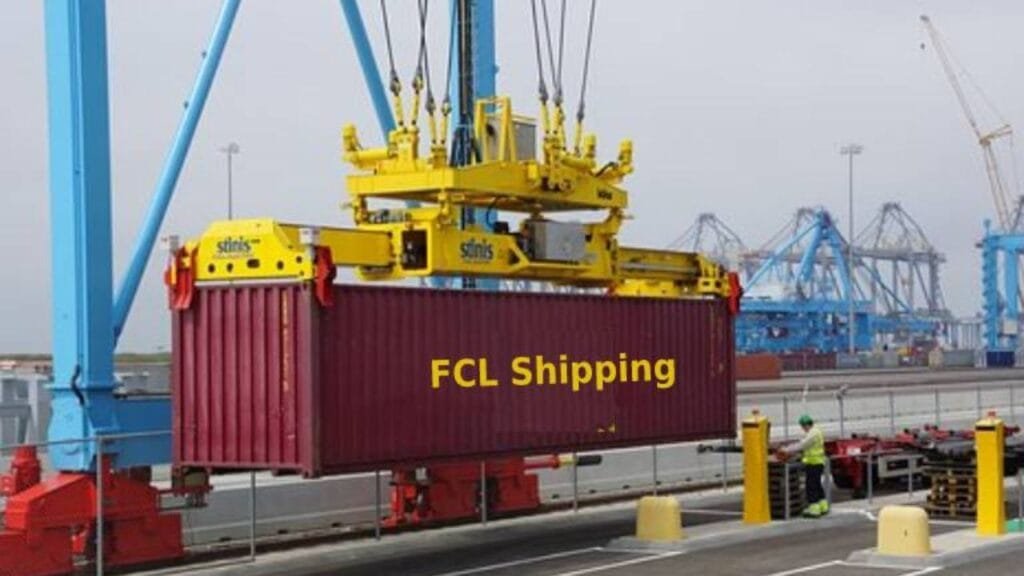 Shipping companies and shipping lines that perform FCL shipping take around 2 to 6 weeks, depending on the origin and destination. Often, shipping FCL includes "rolled shipments," meaning the container does not get loaded into the shipping lines it was supposed to travel on, generally because of overbooked capacity or congestion surcharge.
To avoid rolled shipments to the extent possible, it will help if you book in advance and ensure all your documentation is in proper order.
How To Calculate FCL Shipment Costs?
The first step in calculating the costs of an FCL shipment is to determine the total weight of the goods being transported. This can be done by multiplying your shipment's volume or volume weight by the density of your goods.
Once you have determined your total weight, you will need to calculate additional shipping costs based on distance traveled and transit time. You will need a rate quote from a freight forwarder or logistics provider.
Other factors affecting an FCL shipment's cost include packaging, special handling, and customs clearance fees. To get exact shipping costs for your FCL shipments, it is advisable to consult with a professional shipping agent who can help assess your unique shipping needs and offer customized recommendations for optimizing your costs.
An example of how much the FCL shipping costs can be explained through port charges. A standard 20GP may introduce $800 to $2000 depending on many factors, such as export and import ports' names. distance, product name, shipping time, and so on.
However, remember that customs clearance fees should be paid no matter your shipping methods. FCL shipments and LCL shipments are Both needed.
Expert Tips & Tricks for Getting the Best FCL Pricing
Want to get the best price for shipping FCL? Don't worry because here are some tips to help you get the most economical option.
· Consolidate your shipments and ship them all together
We don't recommend shipping your cargo separately. It will help if you consolidate to ship together with one full container.
· Get a well-packed container shipment and ensure it
Even though there are fewer risks with FCL vs LCL, they are still there. After all, your container takes a long transit time in the sea. To prevent any damage, make sure your shipment consists of good packaging. It will also help if you buy insurance for your ocean freight.
· Plan your ocean freight shipment beforehand
Planning means you'll have sufficient time to find the best ocean freight company, customs broker, and container dimensions.
Also, the risks of customs inspections for an urgent shipment are pretty high. More delays in shipping could happen during the peak season. Planning ahead saves transit time and prevents overpaying.
Top 10 Loading Ports in China
Are you wondering which are the best loading ports in China? Here are the top ten loading ports in China:
1. Port of Shanghai
2. Port of Shenzhen
3. Port of Ningbo-Zhoushan
4. Port of Guangzhou
5. Port of Hong Kong
6. Port of Qingdao
7. Port of Tianjin
8. Port of Dalian
9. Port of Xiamen
10. Port of Yingkou
How to Track the Container Shipping Status
There are two methods to track your ocean freight. You can track the standard containers through vessel data provided by an Automatic Identification System or via Container Tracking Devices installed on containers at departure time.
Ensure you know the shipping lines' names and their tracking website. Get the container number and track your shipment on the website. The cooperated freight forwarder should tell you how to track and will give you the Tracking number.
Is FCL Suitable for Me?
It goes without saying that to ship your goods via international shipping, you need large shipments. If you have six or more pallets and need 20 feet of space per pallet, FLC shipping is the ideal choice for international shipments.
Also, if your cargo isn't big enough to fill the full container or if you have a limited time for shipment, then FCL shipping can be a good option. It does cost more, unlike LCL, and has a slow transit time for the container to arrive, but it does not pose a risk compared with LCL containers.
While a full container load isn't a direct comparison to air freight, it can be mentioned that if the volumes are large enough, FCL shipments are more cost-efficient than air freight.
LCL is perfect for small loads, but often it is worth paying for a full container even if you do not have enough to fill it. That's because LCL costs a lot more per cubic meter than FCL. Thus, once a shipment hits a particular volume, a whole container could be the perfect option.
For a bit higher price, you will receive the benefits of shipping FCL, including lower chances of damage and faster transit time.
Book Your FCL Shipment With DFH!
If you're watching for a company that can handle your FCL and LCL shipments, DFH got you covered. We are a freight forwarding company that facilitates these two shipping methods in all major ports of China.
With our relationship with major shipping lines, a committed team, and an extensive network of different shippers and agents, we guarantee you only the most economical option and the highest quality of service.
Contact us today to find out more!