LCL shipment is one of the many shipping options you will encounter as you coordinate the shipment of your goods. Nonetheless, if you're not a shipping pro, it can be challenging to choose whether or not it's the perfect solution.
This guide will talk about this topic, how it works, how much it costs, and everything in between. Without further ado, let's dive in!
What is LCL Meaning?
LCL is the abbreviation for less than container load. It's one shipping term used to refer to scenarios when you ship goods that don't fill 20 feet or 40 feet container space.
In LCL shipment, the shipping company charges you for the space your LCL cargo occupies in the entire container.
The rest of the entire space is leased out to other shippers. Thus, an entire container normally carries goods belonging to different companies.
How Does LCL Shipping Work?
1. Booking LCL shipping with a freight forwarder.
For illustration, let's work with the example that you're shipping wholesale shoes from China. The initial step is to find a freight forwarder and agree on the total cost of shipping for door-to-door or port-to-door shipping.
2. Prepare your products for loading.
After you contact the shipping line for your shipping LCL needs, they will inquire about the information of your LCL shipments.
3. Inland shipping from the Supplier factory to the Export seaport.
Once the cargo reaches the shipping company's container freight station (ideally near a port or any major port), it will be clubbed with small loads to be delivered along the same route and moved into one container. This is often referred to as container stuffing.
4. International transit.
Your full container will be lifted off and put on cargo ships, which set sail to deliver the goods to the destination country.
5. Arrive Destination port.
When your shipping container arrives at its desired destination, the container load will be taken off and transported into a warehouse for segregation purposes.
6. Receive your products.
After ungrouping the entire shipping container and finishing the customs clean, the shipping company will deliver the products to their final destination.
Advantages of LCL Shipping for Buyers
LCL (less than container load) usually is beneficial for the shipment of the sea or air cargo. But let's dig deeper and look at its advantages to the buyers.
· If you ship LCL, you only pay for the required volume.
· If you ship LCL, that means you are shipping fewer goods, which is equivalent to spending less money on the shipment. That's a cost-effective option for buyers.
· If it is the peak season, less than container load shipping is the ideal option, as it's simpler to find and faster to reach. You can expect a smoother loading process and fast transit time.
· It's a lot cheaper than air freight.
Disadvantages of LCL Shipping for Buyers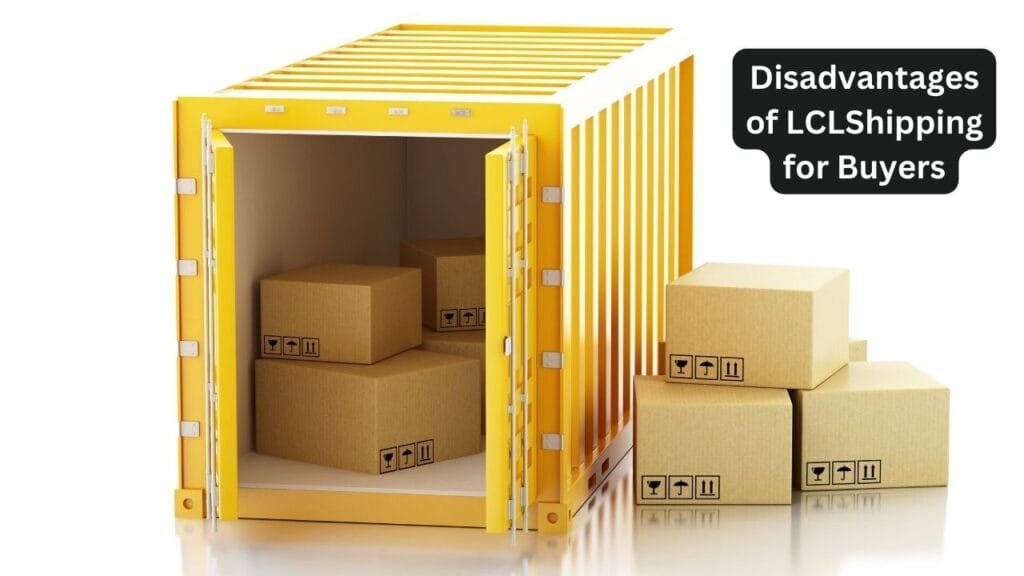 Since we mentioned that less than a container load benefits buyers, there are also some drawbacks to shipping LCL. Here are some of them we thought you must be aware of when it comes to LCL (less than container).
· There are possibilities of damage in the shipping container or shipments. Slightly, but it is there.
· Since it is a shared container and groupage shipment, the delays in customs duties of other shipments can also delay your whole container space.
· LCL shipments are costlier per cubic meter than full container loads.
· Other cargo should be loaded and unloaded from the LCL container.
Who Ships LCL
After your shipping container arrives at your destination port, the freight forwarder will then take over. They will collect your full container and transport it to the warehouse. There, the cargo in the container will be deconsolidated into individual LCL shipments.
DFH team is one of the best freight forwarders that handle LCL shipments from China worldwide. If you want to find a reliable LCL shipments freight forwarder from China. Then DFH is your best Choice. Get a quick quote from DFH now.
LCL Shipment Costs
This is a bit complicated, considering LCL shipments often cost less than full container loads. However, their per-unit cubic meter freight rates are higher than FCL shipping.
Each cubic meter for ocean freight can cost between $25 to $140, depending on the ship's route. Also, the rates for LCL shipments change monthly, so it's essential to check the validity of your freight company's quoted rates before scheduling the shipment.
Here's the list of the costs you need to keep in mind:
1. Pick up Cost
There will be a cost when you collect the shipment from the warehouse or factory to the CFS (Container freight station) warehouse. this is also called drayage costs.
2. Export customs clean costs
The process of customs clearance of goods begins with the filling of the shipping bill and ensuing the activities around it. All goods export from one country to another have to do the customs clean first, then can be shipped out.
3. Export local seaport charges
This is the cost of the sea freight. It's the main leg of the shipment, but it may not be the most expensive part. Often, CFS charges could be higher as they need more mechanics and manpower.
4. Insurance costs
Whether you're sending air freight or sea freight or shipping LCL or FCL, it's important to buy shipping insurance. All shipping lines are required to buy shipping insurance that can help you make risks as low as possible.
5. International LCL shipping costs
It is self-explanatory. It means the sea freight from China's port of departure to your country's port of destination. It's usually allocated to your shipment based on the whole container volume. CBM calculates this Part of the charge. Click here to learn everything about CBM.
6. Import customs clean costs
This is the customs declaration fee for imported goods at the destination country's port.
7. Destination port charges
Upon the arrival of your shared container at the destination country, the LCL shipping container should stop at a CFS for deconsolidation. Remember that the effort of consolidation and deconsolidation also impact the LCL shipping transit time.
8. Inland transit costs
This involves the costs of moving your loose cargo load to the destination address, which can be: a factory Warehouse, office, Amazon Warehouse, personal address, and so on.
9. Freight forwarder charges
Ensure your freight forward shows all fees in a commercial invoice, such as if they provide a port-to-door delivery or door-to-door delivery service. Freight forwarder services charge for each shipment is around 35-75USD depending on many factors such us goods name, export port, destination port, CBM of products, shipping routes, and so on.
Expert Tips & Tricks on How to Get the Best LCL Shipping Rates
Do you want to know more cost-effective tips on getting the best ocean freight rates through LCL shipping? Here are some you can consider.
1. Remember, fragile things may need more space and thus cost more
Pallets are often stacked in many LCL shipments to maximize cargo space. However, if you're trying to ship flatscreen TVs, you don't like anything stacked on top of them, right? That means your LCL rates will be greater as your shipment leaves less space in the container than other loose cargo loads.
2. Consider the interior dimensions of the container
Amazon FBA has rigorous warehouse guidelines, which change quite often. Make sure you understand the cargo requirements so you can have your supplier take the rest of them. Doing so will help you save shipping costs in the long run.
3. For those Amazon FBA shippers, make sure you know your warehouse guidelines
If you book DFH to book your cargo LCL shipment, you can guarantee that we'll handle the rest. For instance:
– Suppose you enter the LCL ocean freight shipment weight and volume. We will send you a message if it's worth considering FCL.
– Get insurance and customs solutions while booking your shipment.
– Track your ocean freight shipment right on the platform and communicate with your freight forwarder throughout your shipment's journey.
4. Don't forget to consider the pallet dimensions
Often, suppliers will offer box dimensions for your shipments. However, your job is to ensure to ask for dimensions such as pallets. Remember that pallet shipment occupies space. That space will be charged to you. So, keep that in mind.
5. Compare and ask for a quote from different freight forwarders
Did you know that having numerous quotes from various freight forwarding companies will allow you to pick the best with the most flat rate? In addition, it will offer you deeper insights into the current market flat rate and help you understand LCL shipping charges.
There are also instances when you will receive a flat rate quote, which is way below or above the market LCL shipping rates. However, you will not know that unless you have a variety of quotes to compare.
When to Choose LCL Method?
If your decision rests only on cargo volume, then LCL shipments are the least costly for shipments of less than 15 cubic meters. It will help you save considerable money in the long run.
What's more, LCL shipments are suitable for shipping small loads. It's perfect for new trading businesses planning to send a specific volume of goods before ramping up.
What Are the Differences between LCL Shipping and FCL Shipping?
FCL stands for full container load or FCL shipping. It offers dedicated containerized cargo to transport your freight. On the other hand, LCL shipments enable you to rent only a minimum space inside a shared container.
FCL shipments have only one destination, unlike LCL shipments having multiple ones. FCL ensures a fast delivery speed for your other shipments.
On the other hand, LCL freight lets you have a stable flow of goods shipped into or out of the warehouse without thinking about the risks of your warehouse being overburdened. That makes LCL shipments more inventory-friendly as compared to FCL shipments.
With FCL shipment, the buyer will be paying for the entire cost of the entire container space. Meanwhile, LCL only pays for the space the shipment occupies in a single container. How cool is that?
Why is DFH One of The Best China LCL Shipment Freight Forwarders?
If you are only looking for a reliable freight forwarder to handle your container load for sea freight or air freight, DFH is the name you should call. We are here to help ease your container load problem, as our team of professionals is transparent and reliable with their communication and thoroughly explains the entire freight shipping procedure.
Also, our LCL less than container load charges are minimal, and our services are top class as we guarantee that our customers are happy. DFH with more than 12 years of experience in arranging LCL shipments from China worldwide. Have arranged many different kinds of products successfully to the destination. help lots of clients save much shipping costs since 2009 till now. Get in touch to begin your save shipping costs journey right now.
Conclusion
That's all for today's blog post on LCL shipping. We hope you now know what it is, its rates, and its meaning. If you have any requests or need help arranging an LCL shipment from China, please do not hesitate to contact us – we would be more than happy to assist you. Thanks for reading!